Kitchen at a Glance
Who lives here: Robert and Ronna Kelly and their two kids
Location: Piedmont, California
Size: 145 square feet
That's interesting: Moving four doors and consolidating counter area turned a poorly functioning space into a family's dream kitchen.

When it came time to remodel, revamping the circulation and space in the kitchen was the biggest challenge. "Most 1920s homes have multiple sources of entry and exiting from the room, which kills most of the counter space," says Robert, of Kelly and Ambramson Architects. In this case, four doors and all the foot traffic to them really chopped up the room. "This project increased the efficiency of the space by rearranging the traffic flow to one side of the room, leaving more space for cabinets and counters."

Robert had to relocate the interior stairs, exterior stairs and windows, which ended up being much more work than he had imagined. He also raised the ceiling from 8 feet, 4 inches to 9 feet for a more expansive feel.

See how they changed the floor plan — which changed everything

Cabinetry: custom by Mark Johnson, San Leandro, California; refrigerator: Amana
The oversize brackets on either side of the stove are among Robert's favorite parts about this kitchen. He built it himself using a drywall box around a hood insert and accenting it with trim.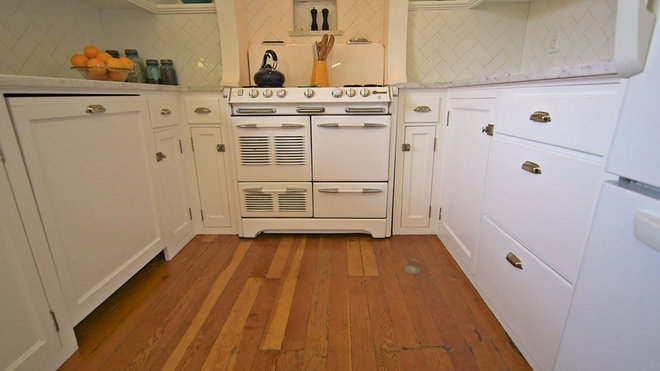 The vintage stove, given to him by a friend who didn't want it, is a huge part of the kitchen's appeal.

Robert tore up the linoleum, revealing beautifully worn wood underneath — and a historic patch made from the top of a tin can — which he kept.
The family opted for a single wide porcelain sink from Kohler. The countertops are 1⅛-inch thick Carrara marble with a honed finish. The wall-mounted kitchen faucet was chosen for its functionality and its utilitarian look.

Robert integrated glass cabinetry into the rest of his custom cabinets. "Glass doors provide a sense of relief as opposed to a solid mass," he says. "We like to display our colorful ceramic bowls and other items in our glass cabinets." Bottom drawers hold Tupperware and the like.

Sink: Kohler; faucet: Chicago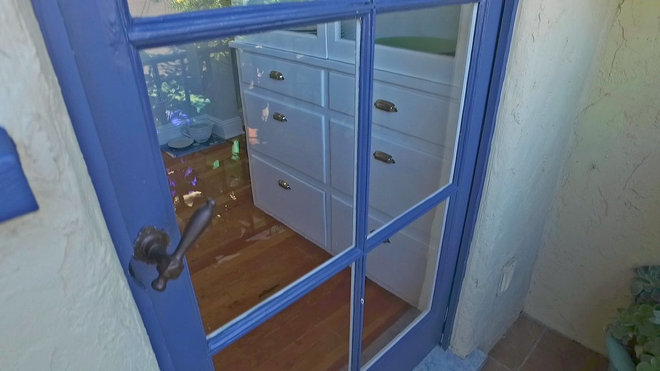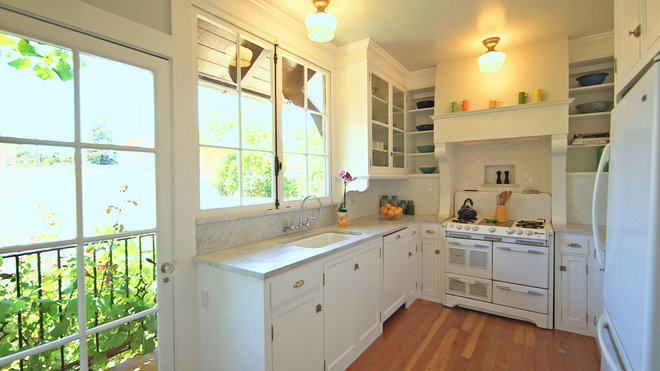 The narrow frame of the exterior redwood door, from Ohmega Salvage, adds to the period look. To meet code, Robert replaced the original wavy glass with wavy tempered glass from Bendheim. The windows came from a house down the street whose owners were throwing them away.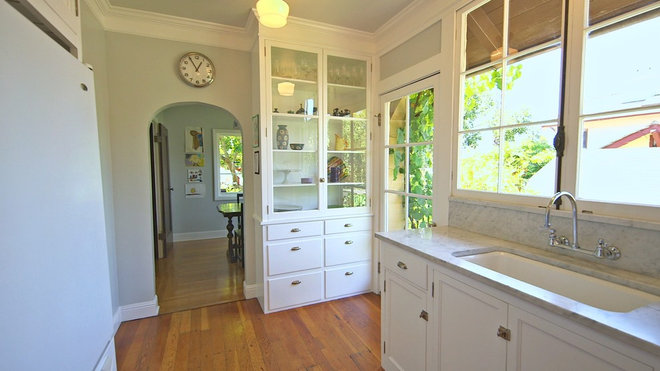 The family considered enlarging the kitchen by taking over the separate dining room, but keeping the wall and its charming arched doorway allowed them to add the china cabinet with all its extra storage.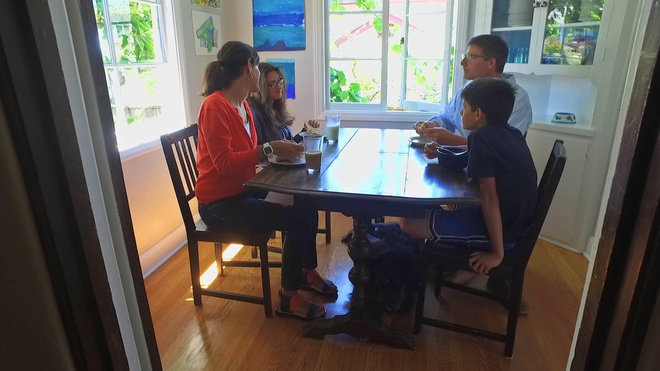 Here, the family enjoys their breakfast nook off the kitchen.

See more on Houzz TV: See how this family got more use out of their kitchen without adding on

Have you renovated a small kitchen? We'd love to see what you did.